Lisa Ragon and Susan Matassa
2005 Chili Cookoff
Canton,Texas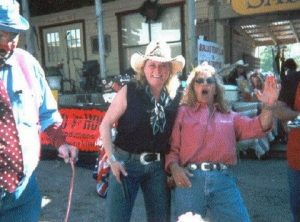 Benefit for the American Diabetes Foundation
C.L.A.W. Organization (for finding homes for dogs)
Canton Chamber of Commerce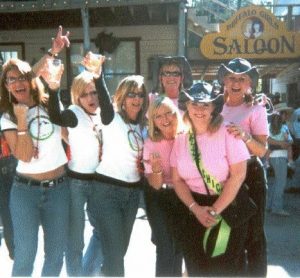 Twisted and Shaken & Lil' Texas Hot Totties
2005 Chili Cookoff
Canton,Texas
Benefit for the American Diabetes Foundation
C.L.A.W. Organization (for finding homes for dogs)
Canton Chamber of Commerce
Kindly hosted by Susan Matassa
owner of the Buffalo Girls Hotel

Once again, "cooking chili for charity", raised some much needed dollars for two very good causes.
The Chamber of Commerce graciously donated their portion to C.L.A.W.
Susan Matassa, owner of The Buffalo Girls Hotel and sponsor of this annual event, presented the C.L.A.W. organization with a $1,400.00 check to help with their very important work of placing unwanted animals in good homes after being spayed or neutered. They actually go out and save adoptable dogs and cats from shelters, put them in foster homes, and hold adoptions at different locations around the Canton area. They have been very successful each 1st Monday at their new location in front of Old Mill Marketplace, on hiway 64.
This area was donated by Debbie Davis Reeves, one of the owners of Old Mill Marketplace and The Mountain. If you are interested in adopting a new pet in to your home, please check with Stephanie Mosby or Dana Tucker of the Citizens League for Animal Welfare at 903-865-1638. They have some great pets just waiting for you to take home.
Another check in the amount of $600.00 was donated to The American Diabetes Association in memory of Annelle Thurman Ball, who recently lost her battle with diabetes. The 6th annual CASI sanctioned cookoff was dedicated to Mrs. Ball who was Lisa Ragon's mother. Lisa has performed at all of the cookoff's and has been singing on The Mountain since its begining in 1995.
"We are associated with CASI…(Chili Appreciation Society International), because we get cooks from all over to come and participate and donate money to our cause. CASI's motto…"Cooking Chili For Charity" is their cause.
All monies collected from these events are to go to the charity of your choice. The cooks pay a $20.00 entry fee and are looking to place, as they get points for each cook-off they enter and more points for winning and placing, either with their chili or their showmanship. Not all cooks are members of CASI, but are here to have a good time as well as help others in need. The CASI members with the most points are elligble to go to Terlingua to the biggest cook-off of them all.
This year's event was won by Wayne Thompson of Bullard, Texas and showmanship was won by Gayle Thedford of Lewisville, Texas.
2nd and 3rd place chili winners were Michele Goodwin and David Manske.
2nd and 3rd place show went to Mimby Robertson's "Martinis & Bikinis group who claims "It's 5:00 Somewhere," and Terry Owen's group, Outback Chili.
A good time was had by all as the band sang, children played, and food and fun was everywhere.
"Thank you to all who donated their time, goods, money, trophys, and smiles, to make this year's event another successful fundraiser." says Matassa. "I can't do it by myself, and the help I get to pull this thing off is overwhelming. I do this in honor of my late parents, Joe & Janie Matassa. They were so giving and generous to all they knew and some they didn't, I just want to continue their tradition of helping others help themselves, and with the help of CASI, and the generosity of The Mountain, I am able to do this." Thanks again and we'll see you next year!
Happy Trails!
Susan Matassa
The Buffalo Girls Hotel
Thanks again to each and everyone of you ! ! !
~ See Ya Next Year ~
Susan
The Buffalo Girls