About Buffalo Girls Hotel
Howdy,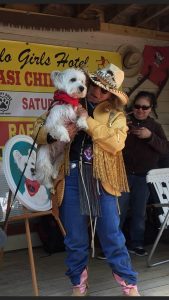 Welcome to the Buffalo Girls Hotel Bed & Bath in Canton, Texas. We began in 1995 as vendor rentals and eventually added bathrooms, beds & unique western, antique, southwest & Texas furnishings to make each room different. We named most rooms after characters in the movie "Buffalo Girls" and offered them to the shoppers of Canton since all we heard was, "We can't see it all in one day."
"Calamity" AKA Susan Matassa
Owner & Your Hostess
So, as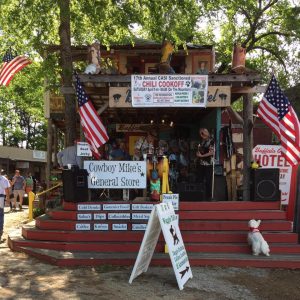 a service to you, we offer clean comfortable rooms, complete with heat and a/c, private baths, cable TV, balconies, or large porches overlooking the Mountain shops and downstairs next to the lobby we offer shopping in Cowboy Mike's General Store. We accept kids and pets as long as they are both "house trained".
We have clean, fresh sheets and towels but DO NOT change them daily. We have fresh towels available in the lobby upon request. Since we are small, sometimes we run out of towels or ice, but if you give us a while…we'll get them. We have cable TV!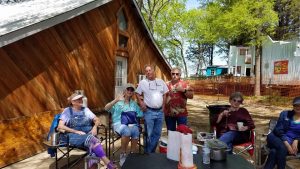 We are located on highway 64, 2 blocks from the square at OLD MILL MARKETPLACE, on THE MOUNTAIN. The Mountain is a shaded hillside with little shops of all kinds built to look like old time pioneer and western dwellings. Food, entertainment, and vendors can all be found on THE MOUNTAIN and most can be seen right from your own balcony. Most stores stay open at night for your shopping enjoyment and live entertainment can be seen at Mathis Family Store & Stage at the base of The Mountain. Food is EVERYWHERE and FUN is in the air!!! Come experience 1st Monday with The Buffalo Girls and have the time of your life.
Food and entertainment is within walking distance and parking is close. All parking lots are owned by others so you should get a weekend pass for $8.00 instead of paying $5.00 for each entry. Ask the attendant about it.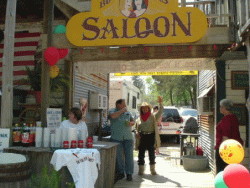 If I can help you in any way or if you have a special request for a birthday, anniversary or just want it to be "Special"… let us know. We can add balloons, room service, or the card of your choice. If you can dream it.. we can make it happen.
Click on Accommodations or call 903-567-7829 to make reservations
Happy Trails!
Susan Matassa, Owner
We are changing the website a little to better help you with navigation, speed and to accommodate the growing number of pictures that are being added each month.