April 3, 2004 Was A Great Success!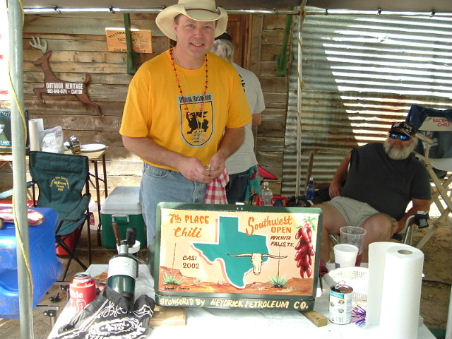 Winner of the 5th annual Chili Cook-Off (2 years in a row, wow!)
Here is what it was all about.
During First Monday Trade Days weekend, the Buffalo Girls Hotel will host the 5th Annual CASI-Chili Cook-off on Saturday, April 3.
The hotel is located on The Mountain, adjacent to Old Mill Marketplace on State Highway 64, just two blocks east of
Canton's downtown square.
The event, which proves to be fun for the entire family, will benefit three-year-old Jenna Lee, of Canton, who has been diagnosed with leukemia. Jenna
is the daughter of Jimmy and Connie Lee and sister to Dylan.
"Come join us for a good time, a great cause and lots of good food and shopping," said Susan Matassa, event coordinator and owner of Buffalo Girls Hotel.
According to Matassa, with the help of CASI (Chili Appreciation Society International) the yearly event is held to benefit those in need or an organization. Ninety percent of funds raised during the chili cook-off will be given to the Lee family to help with Jenna's medical expenses. Five percent of collections goes to help with cook-off expenses, with the remaining five percent being sent to CASI.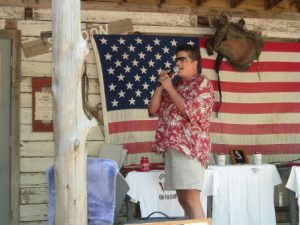 For the past year little Jenna has been hospitalized numerous times for her illness and is currently in remission. She will require expensive chemotherapy treatments for a lengthy period, and only having Medicaid to help pay medical expenses, the family needs additional help to make ends meets.
Jenna's mother, Connie Lee, previously was employed with Van Zandt Newspapers, L.L.C., publisher of the Canton Guide, as well as the Canton Herald. Jimmy Lee currently works in construction and other jobs to take care of his family's needs.
Funds raised during the event have climbed from $1,200 raised the first year to $2,700 last year, which was given to the Canton Volunteer Fire Department.
This year's event will include good food, chili tasting, live auctions, entertainment, gunfights and shopping specials. All of the events are free and all auction and raffle money goes to Jenna.
The event has received nice gifts and prizes donated by the public and Matassa asks those wishing to make a gift or cash donation to contact her at (903) 567-7829.
Old Mill Marketplace owner Debbie Davis Reaves will offer free parking to Canton residents who show a Canton drivers license.
"I dedicate this cook-off, as I have my previous cook-offs, to my late parents, Joe and Janie Matassa. In their memory I want to carry on the Matassa tradition of helping those in need and giving what I can, when I can," said Matassa.
"They were both the light of my life, and I learned a great deal from them. This is my way of thanking and remembering them," added Matassa.
Jenna's family's church, St. Theresa's, her teacher, Michelle Macklefresh, Webelos leader Lorrie Neville, and several of their family friends will help raise funds through a bake sale at the cook-off.
Thanks again to each and everyone of you ! ! !
~ See Ya Next Year ~
Susan
The Buffalo Girls