Lisa Ragon and Susan Matassa
2006 Chili Cookoff
Canton,Texas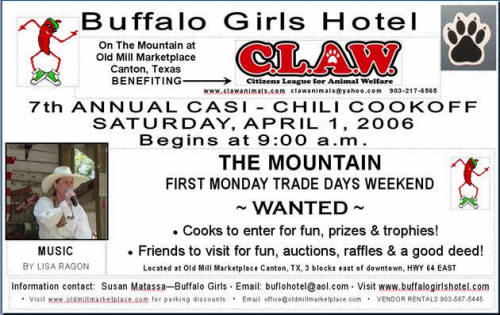 This is a non-profit organization made up of volunteers that go to shelters to evaluate dogs & cats that are discarded to see if they are still adoptable. If so, they give them vet care, have them spayed or neutered, and bring them in to their homes to be "fostered", until they can find a forever home. They have done a fabulous job this year in finding numerous homes for these little guys who would otherwise, well, let's just say…they have been rescued from the gallows. Remember, all the entry money, auction money, raffle money, and any other donations go to CLAW, so by giving a trophy, an auction item to represent your store, B&B certificates, restaurant vouchers, or just plain Greenbacks…..you will be personally contributing to this great cause.
We are trying to have April be CLAW awareness month and kick it off each year with this cook-off and have The Mountain billed as Host. By teaming up with CLAW, Old Mill, and all of us Mountaineers…….we can all make this a very successful event for us all.
This cook-off could be a fresh start for us all. Let's have fun again, help others while doing so, and maybe figure out why we are not making money.
Thanks again to each and everyone of you ! ! !
~ See Ya Next Year ~
Susan
The Buffalo Girls