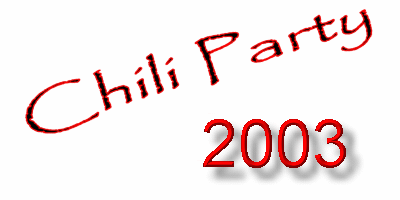 Congratulations Chili-Heads and thanks to all
who helped make this the best year ever!
We raised $2700.00 for the Canton Vol. Fire Dept. and had a great time doing it. It was great seeing people having fun, friends enjoying one another, and to have had such a beautiful day…….I know we were being looked down upon and being praised.
$2000.00 from entry fees, raffle, and silent auction.
– $95.00 went to CASI……
– $5.00 for insurance to CASI
$1900.00
+$400.00 from private donations
+$400.00 donated by Susan Matassa on behalf of her late parents, Joe and Janie Matassa, formerly of La Mirada Ranch in Ben Wheeler, Texas. They helped her start Buffalo Girls in 1995 and continue to be her inspiration and guiding force in life. "They taught me to live life to the fullest, to do every job to the best of my ability, and to treat others the way I want to be treated." They always gave back to the community and this is my way of keeping up the "Matassa" tradition.
Thanks to all who helped and or participated in this year's event…especially my friends who no matter what I ask them to do, they help me out. Thank you guys, and to all the volunteers, judges, helpers, office and others that made this year a great time for all.
Happy Trails!
Susan