13th Annual Chili Cook-Off
March 31, 2012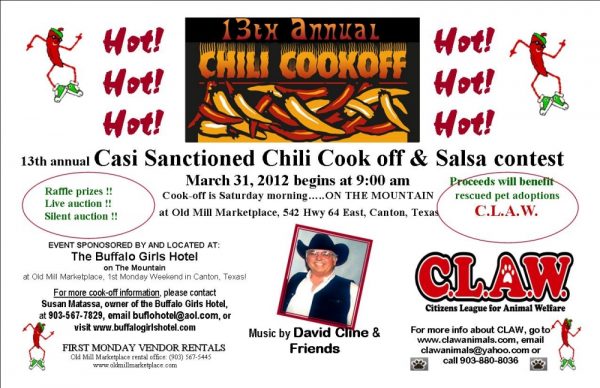 Buffalo Girls Hotel"CASI" Chili Cookoff
To Bring Awareness To Organ Donor Registration
While Benefiting Rescued Pet Adoptions
For 13 years, The Buffalo Girls Hotel, The Mountain, and Old Mill Marketplace have hosted this fun filled family event. Something for everyone, including tons of shopping, live auctions, great drawings, live entertainment from David Cline and Friends, and lots of chili tasting. Started in 2000 by Susan Matassa, owner of The Buffalo Girls Hotel, to bring customers and shoppers to The Mountain, and to honor her late parents by giving back to the community as they did for years. She teamed up with CASI, who's motto is "Cooking Chili For Charity". She continues to support CLAW with their rescued pet adoptions, due to the heavy abandonment issue here in Canton. Although her heart is with the pets, this year she will dedicate the cookoff to her good friend Ryan Hundley, who lost his 27 year battle with cystic fibrosis while waiting on a lung transplant. If more people would not only be organ donors, but also convey to their loved ones what their final wishes are, more lives can be saved with such a wonderful gesture.
There will be a booth set up to explain the gift of organ donation, as well as, people you can talk to about how it is done and how fulfilling it can be. Ryan's Aunt Kay and Uncle Jim have attended every cookoff, as they are college friends of Matassa's and always go home with great auction prizes. Ryan was able to make it to the 2009 cookoff, and enjoyed being outside and dancing to the band. "He will be greatly missed by all who knew and loved him, and it is my honor to dedicate this year's cookoff to him, my curly headed movie star with a beautiful smile.", said Matassa. "My parents knew and loved Ryan and his entire family, so I'm sure they are all together looking down and being proud, and that makes it all worth it to me."
As always, all monies collected at the cookff are donated to CLAW, so whether you enter the cookoff for the $25.00 entry fee, $10.00 salsa fee, donate an item for the auction, bid on the auction, or buy the $1.00 drawing tickets….. you are supporting pet adoptions. It's fun, it's exciting, and it's very tasty. The drawing will consist of a Samsung 32″ TV donated by Eastern Mechanical Contractors, Regulation Ping Pong Table donated by Sears, and a Smith & Wesson M & P AR 15/22 gun, donated by C. B. Wiley at Wiley's Gun Shop. So for just one dollar, you have 3 chances to win. Tickets can be picked up at Old Mill Marketplace, The Buffalo Girls Hotel, or from CLAW members. Auction items include trees, car sevices, western furnishings, lamps, pictures, overnight lodging, timeshare stays, Lake Athens Getaways, beautiful arrangements by Paul Michael, antiques, gift baskets, restaurant vouchers, Texas Ranger Tickets, and much, much, more. RC Bridges and his pet buffalo Wildthing, will be introducing Bullet, a 3 1/2 year old buffalo. Bullet only weighs 500 pounds, as Wildthing weighs 2300 pounds, and is 7 years old. Wild thing has been in Ripley's Believe It or Not twice, and has been on Animal Planet. They have been a fun attraction to have at the cookoff's for several years now and we appreciate them coming out and donating their time for such a good cause. Palefeather will have Miss Lisa the dog, and a new little baby wolf named Jewell Spirit with her as she sells her wares. Come on by to have your picture made with these live buffalo, dogs, indians, or the new baby wolf.
Anyone can enter the cookoff. Trophys are given for 10 best chili, best salsa, and for Showmanship. Trophys are donated by Missy and Alan Woodard @ Brickstone Graphics accross from Buffalo Girls, in the barn. You do not have to be a CASI member to enter the cookoff. Locals are welcome and appreciated. We've had father daughter teams, die hard teams, party teams, girlscout teams, and sheriff teams…..Cowgirls, Cowboys, and even Piglets…..all for fun and charity. The first 15 Chili entrants get goody bags, and are granted cherished spots to set up close to the main stage. Judges are wanted to judge 3 rounds of tasting and will get all the chili tasting they want. All donations, including items donated for the auctions are all tax deductible. Please help us help unwanted pets find new homes and come have a Doggone Good Time, on The Mountain, @ Old MIll Marketplace, Saturday March 31st, during the April 1st Monday Trade Days at The Buffalo Girls Hotel. Remember, The Mountain stays open late each Friday and Saturday, with live music, street dancing, and shopping till 11pm.
2012 Chili Cook-Off Pics and Winners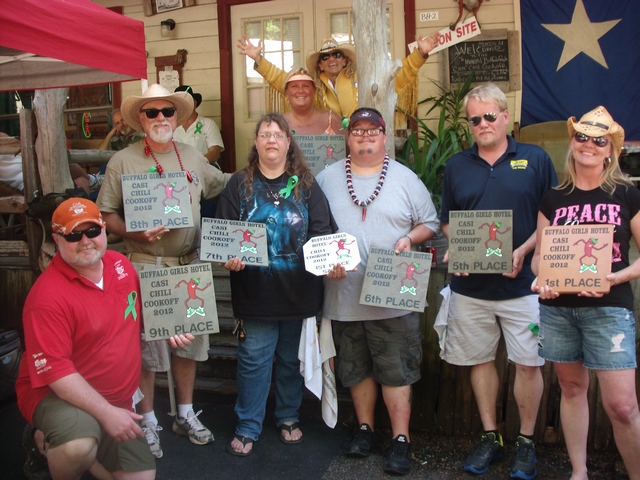 Thanks again to each and everyone of you ! ! !
~ See Ya Next Year ~
Susan
The Buffalo Girls