Cook-Off Event — April 4, 2020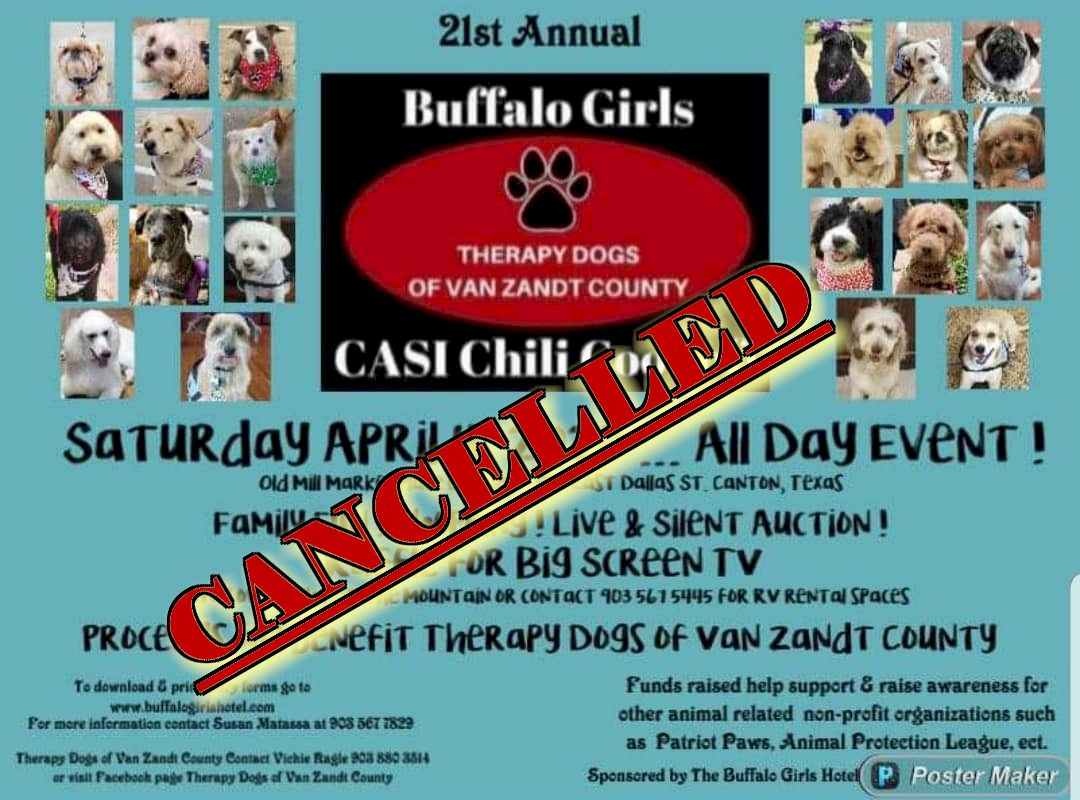 21st Annual Buffalo Girls Hotel "CASI" Chili Cook-Off
To Benefit Therapy Dogs of Van Zandt County will be on Saturday,
April 4, 2020, On The Mountain in Canton
The Buffalo Girls Hotel encourages you to join the fun on The Mountain at Old Mill Marketplace during this year's CASI Cook-off with all proceeds continuing to help support the Therapy Dogs of Van Zandt County.
Mission Statement for Therapy Dogs of Van Zandt County: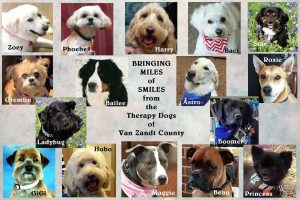 Our organization is made up of Therapy Dog Handlers, who volunteer with their registered Therapy Dogs in animal assisted activities. These activities include, but are not limited to, visits in hospitals, special needs centers, schools, and nursing/assisted living homes.
Our objective is to form a network of caring individuals who are willing to share their special dogs in order to bring happiness & cheer to people, young & old alike.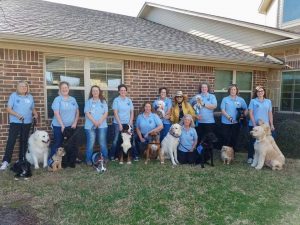 Please feel free to contact our group, if you are interested in this volunteer mission.
Vickie J. Ragle: #(903)-880-3514 – vjragle@msn.com – or visit our Facebook page at "Therapy Dogs of Van Zandt County."
*****
Live music provided by Unfinished Business, live DJ, and MC Lisa Ragon will provide entertainment as Chili Cooks begin cooking chili.
As always David Cline will be singing on Clines Corner, and the Texicans Cowboy Reenactment group will have shootouts throughout the day. So many new stores here on The Mountain include a new baby store, a new Winery, great barbecue, Cajun cooking, Corky classes, pearly girly paint parties, and numerous overnight lodging facilities will all be celebrating our 19th annual cook-off.
Live auction starts at 11 a.m. and all proceeds will be donated to Therapy Dogs of Van Zandt County, which is a non-profit, 501 c 3, organization that help support and raise awareness for other nonprofit animal related causes such as Patriot Paws who raise and train service dogs for deserving veterans.
If you would like to support therapy dogs you can do so by entering the cook-off for a $25 entry fee, donate an auction item, sponsor our t-shirts, or by simply mailing a check made out to Therapy Dogs of Van Zandt County, 354 Van Zandt County Road 4108, Canton, Texas 75103.
The Easter Bunny will be on hand throughout the mountain for pictures and fun and an Easter egg hunt at 5pm at Cedar Flats with prizes and fun for the kids.
Our chili cook-off has raised over $100,000 for various charities in the Van Zandt County area from the Women's Shelter in 2000, leukemia patient Jenna Lee in 2004, the Canton Fire Department, Chamber of Commerce and numerous animal rescue groups have all benefited from our Casi Chili Dook-off put on by the Buffalo Girls Hotel.
Please donate or come out to THE MOUNTAIN to support this worthy cause.
Some of our sponsors include Two Hot Chicks Sign Co, The Visitors Bureau of Canton, and these great new stores on the mountain who will have Red Hot Chili Peppers specials throughout the day at the Old Mill Marketplace complex. Cowboy Mike's General Store will be sampling his ghost chili and Carolina Reaper salsa for those who dare, and others who are offering specials or support are, Backwoods Barbie's, Bless My Britches, THE Garden Shoppe, Ole Boy's Saloon, Gypsy Baby Boutique, Booth Hill, and THE Buffalo Girls Hotel. Many other stores throughout the Old Mill Marketplace complex and The Mountain have donated items for our auction.
The cook-off runs from 9 to 5 with a live auction at 11 a.m., chili judging from 1 to 3, trophies and prizes to follow. Boot Hill and The Dockside Cottages have donated a two-night stay for the first place winner a one-night stay for the second place winner, and a dinner for two at Boot Hill for third place. Thank you to all of our supporters who have promised a fun time on the mountain, Saturday March 31st at our 19th annual Casi Chili Cook-off
Remember the mountain stays open late with shopping, food, overnight lodging, and live music at Boot Hill.
For information contact:
Susan Matassa… 903 567 7829
Email… buflohotel@aol.com
Or visit our website for details and entry forms. www.buffalogirlshotel.com
Entry forms can also be picked up at Cowboy Mike General Store in the lobby of the Buffalo Girls Hotel or at the Old Mill office.
See you at Buffalo Girls Hotel's 20th Annual CASI Chili Cook-off benefiting Therapy Dogs of Van Zandt County on Saturday, March 30, 2019!
Happy Trails and Happy Tails !
Cook Off Info:
Susan Matassa
903-567-7829
buflohotel@aol.com
Entry forms on website, www.buffalogirlshotel.com